A Response to Franklin Graham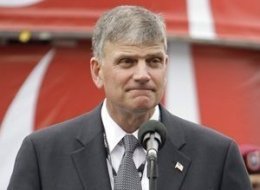 I must say this, Franklin Graham has never developed the political acumen of his father. He has continually made statements that are narrow and inflammatory -- something his father shied away from (at least in public). There are those comments on the Nixon tapes that are problematic!
Recently the younger Graham was
disinvited from speaking
at a Pentagon National Day of Prayer observance. This occurred because Graham has continually made disparaging remarks about Muslims. Yes, I know he loves Muslims, he just thinks their religion stinks and that they need Jesus. But, his comments are incendiary, and his presence at a Pentagon sponsored prayer service, while the United States is at war in two Muslim countries (as it continually declares that it is not at war with Islam), is not helpful.
Graham, of course, won't let this thing die, and suggests that this disinvitation is a slap in the face of evangelical Christians. Not only that, it is the sign that forces within the Obama administration are opposed to the Christian faith. (What is interesting is that Graham cites Islam's treatment of women, but when he speaks of Obama's advisers, he speaks of "the men around" him -- I thought that there were some women among Obama's advisers, but I must have been misinformed).
In response to Mr. Graham -- it is not that evangelicals are being disinvited, it's people like you who are being disinvited. Obama is on good relations with a number of evangelical leaders. He seeks prayer support from evangelical pastor Joel Hunter and from evangelical United Methodist pastor KirbyJohn Caldwell -- who by the way served in a similar position with President Bush. It is not, therefore, a repudiation of evangelicalism. Instead it is a repudiation of the narrowness of figures such as Franklin Graham, Pat Robertson, and James Dobson. It may also be a response to the self-proclaimed
National Day of Prayer
task force, a group of ultra-right conservative Christians who have seen fit to take over this day as their own.