The Dangers of Spiritual Amnesia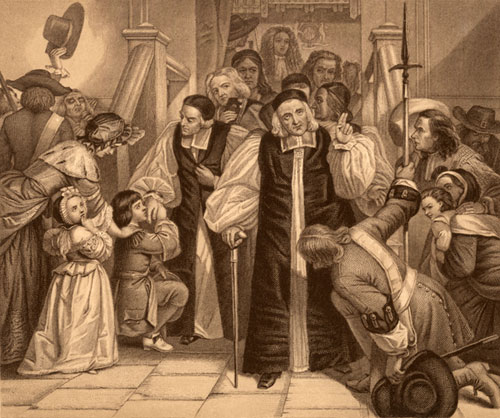 Being a historian, I love to talk about the past. I'm especially interested in talking about such obscure groups as the Nonjurors. You ask: who are the Nonjurors? Well that is a subject for another day -- but
here's a link
just in case you're really curious.
But, more to the point, American Christians have a tendency to relegate history to the back burner of the conversation. We're all about the present and the future. We'd just as soon not get stuck in the past, unless of course we're daydreaming about mythical golden ages when everyone was a Christian and the nation was Christian. There is a tendency, as well to recreate history to suit our own purposes -- as we saw recently with the Texas Textbook Committee. Or maybe we'll develop the hubris to think that our age is the beginning of the next great age of faith, surpassing all that came before.
Diana Butler Bass wrote a piece yesterday for her new
Huffington Post
blog posting
entitled "Is Western Christianity Suffering from Spiritual Amnesia?" I'd like to clip a couple of excerpts and comment on them because I believe she's raising important questions.
At the present juncture of history, Western Christianity is suffering from a bad case of spiritual amnesia. Even those who claim to be devout or conservative often know little about the history of their faith traditions. Our loss of memory began more than two centuries ago, at the high tide of the Enlightenment. As modern society developed, the condition of broken memory -- being disconnected from the past -- became more widespread. Indeed, in the words of one French Catholic thinker, the primary spiritual dilemma of contemporary religion is the "loss and reconstruction" of memory.
If we're suffering from spiritual amnesia, we're likely suffering from a spiritual identity crisis. This is an age when the changes are coming at us fast and furious. Many of us feel as if we're rafting the the white waters of the Colorado River. Where is our anchor? Our sense of identity? One of the consequences of amnesia is a loss of identity. You simply don't know who you are or where you come from. That is the danger that faces us today, and its largely our own fault. We've simply not told our stories.
Although many recoil from the term tradition, tradition is something we need to reclaim if we're to reclaim a sense of identity that will anchor us as we shoot the rapids of modernity/postmodernity. Diana clarifies this a bit in her closing paragraph:
About a year ago, I heard Newsweek's Jon Meacham say, "History is to a country what memory is to an individual." The quip seems particularly apt to American religious groups. To paraphrase, history is to a religion (or a denomination, church, or faith community) what memory is to an individual. To lose memory is neither funny nor sad; rather, it is a path to profound brokenness, a loss of self, meaning, and God that leaves us in darkness unable to act in purposeful ways in the world. Thus, I wonder: Is spiritual amnesia a precursor to religious Alzheimer's, a fatal loss of memory for which there is no cure? I hope not. And I hope that religious people -- especially my progressive brothers and sisters -- can tether their passion for contemporary faith to ancient wisdom.
As we seek to tether our passion for faith to the ancient wisdom, let me recommend Diana's own book
People's History of Christianity
(Harper One, 2009) as a good place to start. And, if you're a bit more ambitious, you might check out Diarmond MacCulloch's
Christianity:
The First Three Thousand Years
(Viking, 2010). MacCulloch's book just arrived in the mail from the publisher, and all I've had time to do is flip through the pages -- but even though it's over a thousand pages in length -- it looks as if it will be a good read.