The future of institutional religion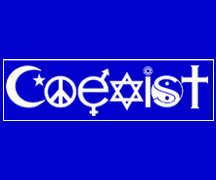 Dietrich Bonhoeffer wrestled with the idea of a "
religionless
Christianity" while in prison. Of course, he was executed before he could really define what that might mean. The idea caught on, especially in the 1960s, which produced the much ballyhooed "Death of God" movement. As history has shown, religion did not pass away, as sociologists of the 1960s thought. Indeed, religion/spirituality continues to be prevalent in our society. But there are signs of change. Recent surveys show a growing trend toward people, especially young people, designating themselves as "None" when it comes to their religious affiliation. This is an interesting turn of events, because in earlier days, even if you didn't attend church, you would likely affiliate yourself with a major religion. I'm Christian, Muslim, Buddhist, etc. It was more a cultural affiliation than anything. You might even attend church once or twice a year -- to get it out of your system.
But things are changing. Many people have come to the conclusion that you can be spiritual, believe in God, and not affiliate with a religion. People might see in Jesus, for instance, a man of great wisdom and understand that most religious traditions do proclaim peace and love and such. But in actual practice, they don't live out their faith's professions. There is too much hypocrisy.
So, what does the future look like? And how shall we respond?
The evidence is that the "nones" will continue to increase. The question is, how does the church respond?
This is the question that Peter
Savastano
takes up in a
Religion Dispatches
piece. It's also the topic of Harvey Cox's soon to be released book
The Future of Faith
(Harper One, 2009), which I've read in proofs for another project. I will speak to Cox's book at a later date!
Savastano

offers a rationale for why this spiritual dimension exists:
What exactly does this category of self-identity mean? Perhaps anthropology can offer some clues. Anthropologists of religion recognize that there is a universal human capacity to wonder at the mysteries of life and death and a need to make sense of or find meaning in the strange circumstances we find ourselves in. Drawing on the insights of the anthropology of religion, it seems it is universally common for human beings to strive to make meaning of the mysteries of birth, life, death and the cosmos; that there is, in fact, a part of us which is hardwired to be "spiritual," for lack of a better word. I suspect too that it is out of this hardwired capacity for the spiritual that human beings throughout history have created the myriad and diverse religious traditions which are the source of some of the best and worst of human behavior, both individually and collectively.
Once religions were
regionalized
, but now there is growing interpenetration, leaving people more aware of options, and leading to a bit of hybridization of religion.
As for what can be done in response --
Savastano
offers several propositions for how to respond. And response will require significant changes for Christians:
1. Abandon the idea that only one religion is true
(one way of salvation).
2. Learn to "speak more than one religious language."
We need, in the service of humanity, to learn to communicate in the "religious languages" of other traditions. Seek understanding.
3. Develop idea of "

Multiple

Religious Allegiances."
This is already prevalent in Eastern Religions, but is not generally present in the three
Abrahamic
religions.
4. Develop a greater capacity for religious ambiguity.
That is, we will need to develop a greater appreciation for metaphor, allegory, and symbol, while being less concerned about the literal and historicist interpretations of doctrine/dogma. (This is a central theme of Cox's book).
As for the presence of and growth of fundamentalist religion, Harvey Cox believes that it's presence will diminish over time -- that it's in its death throes.
Savastano
isn't quite so sure. But, like Cox sees it as a response to the growing uncertainty of life as we know it.
Along with all of the above, we have simultaneously witnessed the rise in fundamentalist religion—the literal and historicist interpretation of sacred texts, and the dogmas and doctrines they propound. I interpret this rise in fundamentalist religion (which, I am sorry to report, is also likely to stick around) as a reaction to the great uncertainty produced by rapid globalization and technological advancement, a response to the incredible imbalance and abuse of power in the world, and the unequal distribution of this world's resources. Still, I remain optimistic. For if we are going to be able to live peacefully and productively in an increasingly complex world that puts us more intimately in touch than ever before, these are some of the critical ways that religion will have to change. After all, it does appear to be here to stay.

I am deeply embedded in institutional religion. I am a product of it. I'm an employee of it. I am a leader within it. I have much invested in this institution. Of course, I'm in middle age, and the long term effects of the present trajectory probably won't be felt until long after I'm retired. But what is the future? Where do we go? How do we respond?