Ted Kennedy's Letter to the Pope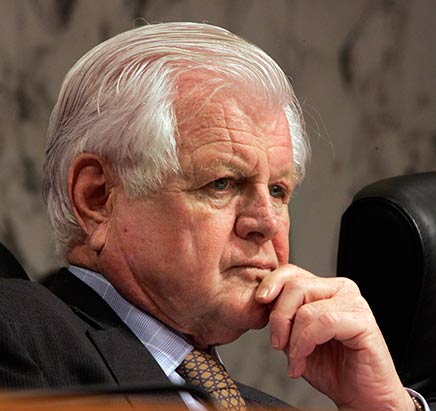 There are many sides to each of us. We are created in the image of God, and as they say God doesn't create junk. Yet, we are all flawed in some way -- some more than others. Sometimes we try to compensate for our dark side, by highlighting other things, hoping to balance out the ledger. I write this in preface to comments on a recently released letter written by Edward Kennedy and passed to the Pope by President Barack Obama.
As for the Kennedy letter, what I've been able to read, it is very interesting and illuminating. Excerpts of the letter were read by the Cardinal Archbishop of Washington Theodore McCarrick at his internment at Arlington. First is an
excerpt
in which he expresses his profound commitment to the faith of the Catholic Church:
"Most Holy Father, I asked President Obama to personally hand deliver this letter to you. As a man of deep faith himself, he understands how important my Roman Catholic faith is to me, and I am deeply grateful to him.

"I hope this letter finds you in good health. I pray that you have all of God's blessings as you lead our Church and inspire our world during these challenging times.

"I am writing with deep humility to ask that you pray for me as my own health declines. I was diagnosed with brain cancer more than a year ago, and, although I continue treatment, the disease is taking its toll on me. I am 77 years old and preparing for the next passage of life.

"I have been blessed to be a part of a wonderful family, and both of my parents, particularly my mother, kept our Catholic faith at the center of our lives. That gift of faith has sustained, nurtured and provided solace to me in the darkest hours. I know that I have been an imperfect human being, but with the help of my faith, I have tried to right my path."
From there he goes on to speak to the issues that he held most dear -- issues that reflect Catholic social teaching on such things as the poor, health care, and the death penalty.
"I want you to know, Your Holiness, that in my nearly 50 years of elective office, I have done my best to champion the rights of the poor and open doors of economic opportunity. I've worked to welcome the immigrant, fight discrimination and expand access to health care and education. I have opposed the death penalty and fought to end war. Those are the issues that have motivated me and been the focus of my work as a United States Senator.

"I also want you to know that even though I am ill, I am committed to do everything I can to achieve access to health care for everyone in my country. This has been the political cause of my life. I believe in a conscience protection for Catholics in the health care field and will continue to advocate for it as my colleagues in the Senate and I work to develop an overall national health policy that guarantees health care for everyone.

"I have always tried to be a faithful Catholic, Your Holiness, and though I have fallen short through human failings, I have never failed to believe and respect the fundamental teachings. I continue to pray for God's blessings on you and our Church and would be most thankful for your prayers for me."
Yes, Ted Kennedy was a deeply flawed individual (as were his brothers), but as we've been reflecting on his life this past week, we've seen much evidence of his deep faith. He was committed to a life of prayer, sought to ground his life's work in his faith. And yet, there were points of disagreement -- especially on abortion and gay rights.
What I find interesting is that many Catholics who stress opposition to abortion don't seem at all concerned with the rest of the church's social teachings, including the church's opposition to the death penalty.
I recognize that none of us are completely consistent. We make our choices and try to live our faith as best we can, trusting in God's grace. This is what Ted Kennedy appears to have done.