Marriage in Interesting Times -- A Bible Study for Our Times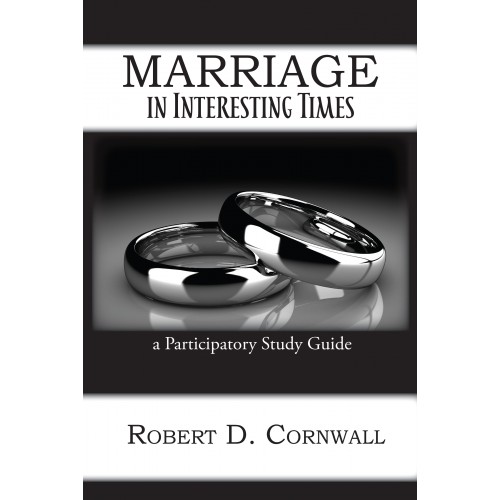 This is a study guide on marriage. Discussions include: covenant vs contract, concepts of biblical marriage, loneliness and looking for a mate, the realities of divorce, and family in the larger community.
I titled the study guide "Marriage in Interesting Times," because we are living at a time when profound changes in the way marriage is understood. Not that long ago, it was assumed by many in American society that traditional marriage not only involved a man and a woman, but the man was the head of the household and the woman was a homemaker. The man earned the money, and the woman cared for the children and kept the house in order. Then came the idea that husband and wife were equal partners in the marriage. In most cases both partners worked outside the home, and they shared more equally the duties of the home. Today, the definition of marriage has evolved one more time to include same-sex couples … So, when we talk about marriage in the twenty-first century, at least in the United States, and a number of other nations around the globe, we must remember that the legal definition, if not the religious one, includes both gay and straight couples. Yes, these are interesting times. Dr. Bob Cornwall
It is the hope of both Dr. Cornwall and Energion Publications that there will be more dialogue during this study and less diatribes.
All too often, biblical texts about marriage are flattened into soundbites, divorced from historical context and

emptied

of wisdom. In

Marriage in Interesting Times, Bob Cornwall masterfully guides readers through the nuance and complexity of biblical teachings about marriage and invites us to explore their meaning in light of our contemporary context. The times are very interesting indeed --- and so is this book! Katherine Willis Pershey. author of Any Day a Beautiful Change.