Coach Wooden Dies -- Age 99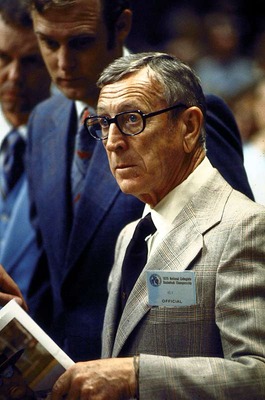 I grew up in Oregon rooting for the Ralph Miller coached Oregon State Beavers. There was, during those years, one team that one loved to hate. That team was the John Wooden coached UCLA Bruins. The problem with UCLA was that they simply wouldn't lose. Think about it, a team winning 88 straight games and seven national championships in a row. There should be a law against it.
Well, I've never become a UCLA fan -- the Oregon-based loyalties are too strong -- but over the years I came to understand that John Wooden (who was a Disciple of Christ like me) was more than a basketball coach. He was a gentleman and a person of honor. I may not have liked watching the Bruins win. I may have cheered loudly the night the Ducks beat the Bruins in 1974 (even though I didn't like the Ducks that much either -- remember I was a Beaver's fan), but upon hearing of the
Coach's death yesterday (June 4) at age 99
, I will stop to honor his legacy. I've heard interviews with Bill Walton and Kareem Abdul
Jabbar

,
both of whom speak of his grace and wisdom, especially as they expressed themselves in ways that the Coach probably didn't appreciate. But he stood with them and guided their paths, and they have been appreciative. He was more than a coach, it seems, he was a mentor.
So, God bless the memory of John Wooden.