What Does the Lord Require? A Review
WHAT DOES THE LORD REQUIRE?: Doing Justice, Loving Kindness, and Walking Humbly.
By James C. Howell. Louisville: Westminster John Knox Press, 2012. 80 pages.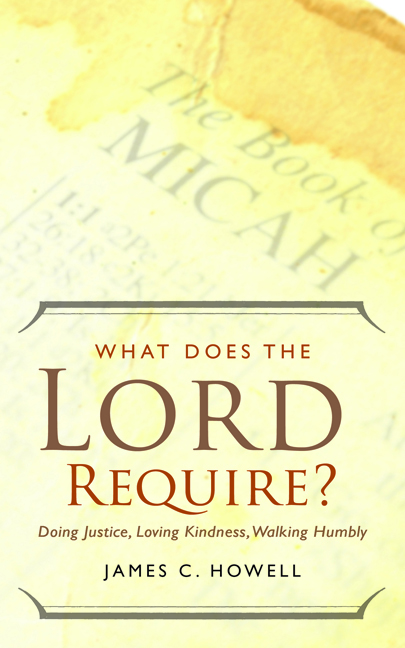 What does the Lord require of us? The answer is clear, at least in the mind of Micah – justice, kindness, and humility (Micah 6:8). This passage of scripture is well-known to many of us. It is simple and direct, but like other simple and direct statements, there are nuances and meanings that are buried deep in these words that require our attention.
United Methodist pastor James C. Howell (Myers Park UMC of Charlotte, North Carolina) is a prolific author of books that speak both to clergy and laity, and in this brief book Howell draws upon his hermeneutical and homiletical skills to help us unpack this most powerful of biblical texts for today.
In the course of eight chapters, Howell walks us through the passage, introducing us to the prophet, the controversy that led to the prophetic work of Micah, and then to the text itself. He notes that this prophet about whom we little beyond his name and what that might mean, as well as his social location, sets up the conversation as a trial, with the Lord bringing charges against the people (Micah 6:1-2), with creation and history serving as the witnesses for the prosecution. Micah draws attention to their piety and suggests that it is not in line with their actions. God is not interested in piety that is contradicted by the way one lives. Having been declared guilty, what will the Lord require of us? In answering that question, Howell, who has a Ph.D. in Old Testament, dives deep into this word "require." He notes that what is darased "is personal; it matters" (p. 17). It is not focused on rules, but on what God takes delight in. As for the three things God desires – they don't form a checklist. They are three, but they are also one, perhaps describing the inner life of God, and separated from one another, they won't make sense.
Although these three things God requires can't be separated from one another, it is important to understand what Micah has in mind by using these three words. The Hebrew here is mishpat, and the justice that is envisioned is that which was laid out on Sinai. It points us back to God's commands, and they are not laws that apply just anywhere – they are personal because they come for God, they "reveal the heart of God" (p. 29). This vision of justice is intended to create a community where the poor, the orphan and the widow, are defended. He writes:
A just society is not necessarily the one where fairness reigns and the diligent and thrifty are rewarded. No, a just society is the one where everyone belongs, where the neediest are taken good care o, where no one is hungry or disenfranchised

(p. 31).
As we contemplate this definition of justice, which Howell suggests comes from the heart of God, we are asked – how do we fair? Is our piety in contradiction to God's heart?
From justice we move to kindness, but kindness isn't niceness. In fact the words used here are difficult to translate. In fact, all of the extant translations seem to pick up the nuances of this requirement. The first word is love, and that's fairly easy to define, but the word hesed is a rather rich word, and maybe is best translated as "covenant loyalty." Thus, to fulfill this commandment we are called to love with covenant loyalty, but this must be unpacked, and Howell does so. Finally we come to walking humbly with God, which as Howell points out isn't a command to "be humble," but to walk with God in humility. It speaks of an active presence of God, and God is never absent from this journey. Our ability to experience justice and loving kindness is rooted in our walking humbly with God, and because we belong to God, and walk with God, we can walk together as a people, "for, and with, everybody else" (p. 56).
As Howell notes in his epilogue in this brief passage, God "has graciously shown what is good." God answers the question of what God requires and what God delights in. He writes: On our own, we lunge toward justice, love, and humility, knowing we will fail, but the very desire to please God pleases God, and the Holy Spirit may just produce the fruit of Micah 6:8 in us. The world is even hungrier for it than we are" (p. 57).
Howell's treatment of Micah 6:8, which draws out important nuances that enliven our understanding of this prophetic vision, is accompanied by a study guide created by Kathy Wolf Reed. She lays it out as a four session study, making this an attractive option for groups who need a short option, but also one that will have a transforming effect on the people who engage it. The guide is laid out very well, offering options and guidelines, so group leaders will be well prepared to engage the topic.
Well written, well thought-out, provocative and yet comforting, this book will have value for individuals, groups, and even preachers looking for sermon ideas. Diving into this book and the text it meditates upon will be quickly rewarded by a vision of what God desires for us, a relationship built upon justice, love, and humility.