Time to Give Thanks -- A Thanksgiving Reflection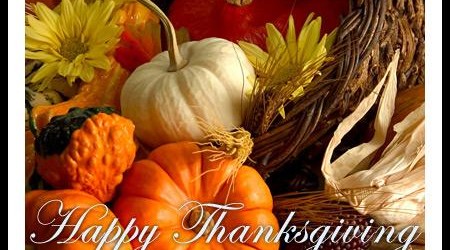 The Psalmist calls on the people of God to "enter his gates with thanksgiving, and his courts with praise."

The Psalmist goes on: "Give thanks to him, bless his name." Why? "For the Lord is good; his steadfast love endures forever, and his faithfulness to all generations." (Psalm 100:4-5 NRSV).
On this coming Thursday, we as a nation will celebrate a Day of Thanksgiving. Some will travel, some will gather with family around a table bountifully filled with food or they may go out for a meal, some will work, while some will shop. There will be football and there will be parades.
For some this will not seem like a day of Thanksgiving. They may be spending the day alone, far from family and friends. Others may be struggling with life – with foreclosure, job loss, family crisis, death in the family. At times like this it seems as if there is no bounty to celebrate, no faithfulness of God draw strength from. As I write this reflection, I recognize that in many places, our nation continues to struggle economically, even though much progress has been made. There is tension in our midst – political, religious, ethnic, gender related. They say that we're a divided nation – red states and blue states. That may appear to be true, but a truer picture suggests that we are various shades of purple, a blending of party lines. But maybe there is more room for hope than we recognize, and by hope I don't mean optimism. Hope is much more realistic and it demands more of us. It asks that we recognize our own culpability and choose to make changes in our way of thinking and way of life that are beneficial to all.
Our offering of Thanksgiving looks not only backward, but forward. The day invites us to envision a new day when justice and mercy will prevail.
As I pondered what to write in this reflection, which I'm posting both at my blog and on the Troy Patch, I decided to read Abraham Lincoln's Thanksgiving Proclamation, issued on October 3, 1863. President Lincoln invited a nation, so badly divided by Civil War, to stop and offer thanks to God. I clipped out this brief section of that proclamation because I think it speaks to our own time and situation.
Lincoln speaks here of penitence for "national perverseness and disobedience." Lincoln was very aware that despite the greatness he saw in the nation, it had its own dark side that needed to be acknowledged. He spoke here of the need to care for widows and orphans, as well as all who mourned and suffered as a result of the war that was going on at the moment. And he asked that the people pray for healing of the nation.
I do therefore invite my fellow citizens in every part of the United States, and also those who are at sea and those who are sojourning in foreign lands, to set apart and observe the last Thursday of November next, as a day of Thanksgiving and Praise to our beneficent Father who dwelleth in the Heavens. And I recommend to them that while offering up the ascriptions justly due to Him for such singular deliverances and blessings, they do also, with humble penitence for our national perverseness and disobedience, commend to His tender care all those who have become widows, orphans, mourners or sufferers in the lamentable civil strife in which we are unavoidably engaged, and fervently implore the interposition of the Almighty Hand to heal the wounds of the nation and to restore it as soon as may be consistent with the Divine purposes to the full enjoyment of peace, harmony, tranquility and Union.
He asked that divine providence would lead to a time when the people, the nation, might enjoy fully, "peace, harmony, tranquility and Union." It was a hope that took many decades to perfect, and we continue to perfect that union that Lincoln envisioned, a perfect union others have envisioned down through the ages. We have not reached the moment of perfection, but we can pursue it.
Yes, we're not a perfect union. Our history is not spotless. While I'm not given to the principle of American Exceptionalism, I do believe that there is opportunity here in this place to create an environment of peace, of freedom, of hope. We are a nation largely made up of immigrants and children of immigrants. Even the most indigenous of Americans came to this continent from another place, though much further back in time than the rest. For some, their ancestors came here not of their own volition, but in slave ships. But together we make up the fabric of this rather unique nation. We have room to grow and to improve, but we also have much for which to be thankful.
So, as I stop to give thanks, I find great hope in these words of the Psalmist, who declares that God is good and that God's steadfast love endures forever. Therefore, I find strength to participate in the perfecting of the union, not just of this nation, but of the entirety of creation. It's not something we can do by ourselves, but together we can make this a more perfect world. But that requires humility and great patience.
As I make my prayers of Thanksgiving, I do so as a Christian. Others in the community will offer their prayers from their own places in life – as Jews, Buddhists, Muslims, Sikhs, Hindus, Jains, Unitarians, Baha'is, and Wiccans, to name but a few of the faith traditions present in our community. Others, who may not profess belief in God or divinity, surely can find appropriate ways of giving thanks.
So, in whatever way you're able, I invite you to join me in giving thanks for the bounty that we enjoy and shall enjoy, so that we might join together and work for the common good of all – both in this nation and beyond our borders. We are, after all, one humanity, inhabiting this world that provides a home for us to enjoy.