40 Days, 40 Prayers, 40 Words (Bruce Reyes-Chow) -- A Review
Lent is a season of forty days, mirroring Jesus' forty-day sojourn in the wilderness. Lent is supposed to be a season of prayer and contemplation, and it is useful to have guides for the journey. Westminster John Knox offers us this guide authored by Bruce Reyes-Chow, a Presbyterian pastor, writer, and cultural critic. He is a Senior Consultant with the Center for Progressive Renewal and served as the youngest ever Moderator of the Presbyterian Church (USA) General Assembly. In this brief book, Reyes-Chow brings together forty brief prayers and meditations focusing on forty words. Although the book is offered as a Lenten reflection, it can be used at any time of the year.
Prayer is central to the Christian faith, but Christians approach prayer from a number of directions. Reyes-Chow notes his belief that there is no "wrong or right way to pray." Rather, prayer is an "ongoing conversation between humanity and God." We pray in the hope that God is listening, but the life of faith is also spent "learning to listen for the many ways that God may respond" (p. xi). Reyes-Chow understands also that prayer may have a shadow side, where prayer is used to manipulate others. This normally happens in public settings. It occurs when we use the act of prayer to lift ourselves up, rather than to God. This collection is offered in the hope that it will further the conversation we have with God, a conversation that transforms lives.
The book is structured around forty words beginning with community and ending with despair. He covers a wide variety of ideas and concepts including faith, isolation, justice, laughter, and more. The book provides a word, a scripture reading that relates to the word, a prayer, and a mediation. These are all based on the lectionary readings for Year C of the Revised Common Lectionary. Accompanying these words and prayers, are three Quick Read Codes (QR Codes), that can be scanned from one's phone. The QR codes allow the reader to participate more fully in the prayers. One QR Code takes the reader to a web site, where one can read more and find graphics that go along with the words and prayers. The second code allows the reader to tweet the prayer. The third code takes one to a site called "Instaprayer," where one can again share the prayer and one's thoughts. The graphics are available for use on social networks and for bulletins. The author notes as well that each prayer is designed to stand on its own, and thus can be used as desired.
The prayers themselves are brief, usually no more than eight to ten lines. They're personal and thought-provoking. Because I planned on reviewing the book on my blog, I moved through quicker than one might if one was using it as a guide to daily prayer during Lent. I attempted to use the QR Codes and tweet a few of the prayers. It took a bit of doing, but I got the hang of things. As I noted, I was using a paperback copy. If one were to download and e-book version, Reyes-Chow notes that some of the components will work differently. With the paper version, one can use a smart phone or tablet to use the QR codes. If one has an electronic version, then they will find clickable links. With that, he invites the user to "See It!" "Tweet It" And "Pray It" (p. xv).
Here then are a few examples of the prayers, using the graphics provided by the author. The first prayer I'll share is provided for Ash Wednesday and focuses on Community.
This prayer focuses on learning: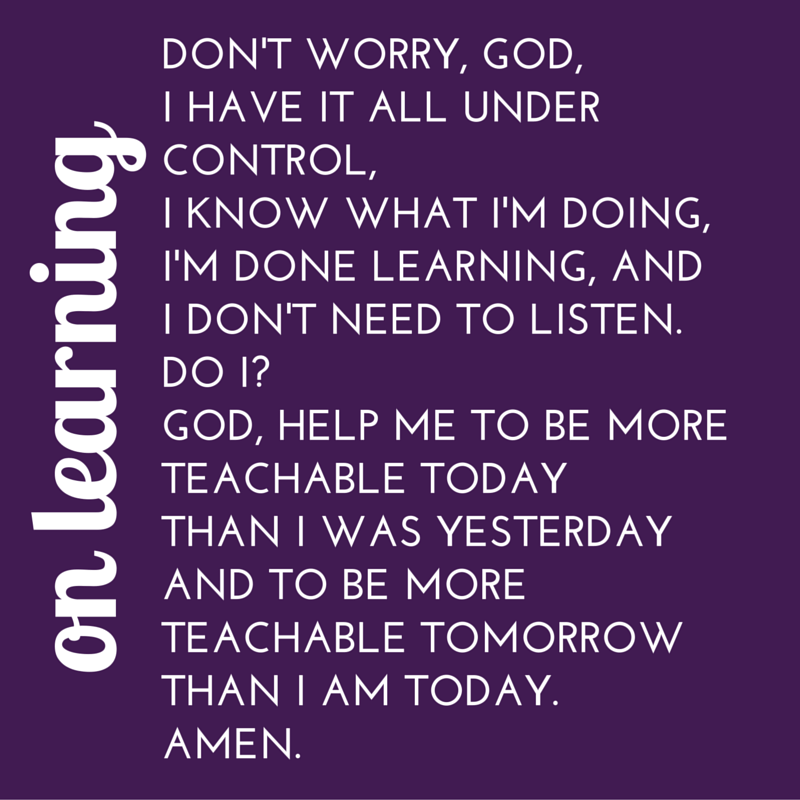 The remaining prayers and words are like unto it. These two should give one a sense of their flow and use in personal prayer. So, if you're looking for a Lenten prayer guide, I recommend this book. It is thoughtful and progressive, and is designed for interaction. So, take and read. To follow on Twitter, check out the hash tag #40wordprayer.